How does IntelliJ figure out where the tests are and which ones to run?
When I use sbt test from the UNIX command line at the project top level directory, all my tests run. But interactively in IntelliJ they don't, in fact IntelliJ doesn't find any tests unless I point the mouse to the actutal file containing the tests.
If I point the mouse to the GreetingTestSuite file in the file browser, I can run GreetingTestSuite, and it runs correctly.
However, if I point the mouse to the lecture-1 directory in the browser wiget…,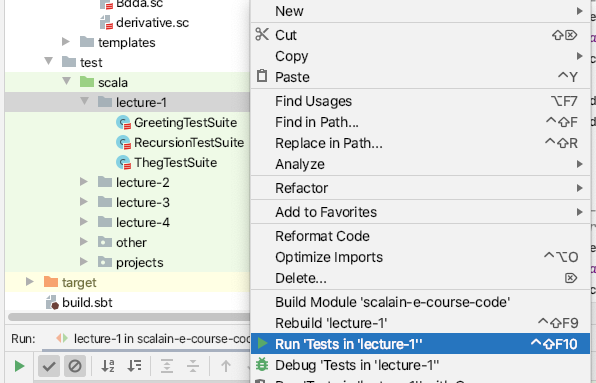 it says no tests are found.
I also notice the scala directory appears green while the lecture-1 icon appears black. I'm not sure whether this is related.
I tried looking at the Edit Tests in menu item.
But I don't see anything that will help.