Hi, if I have a dataframe like the one below: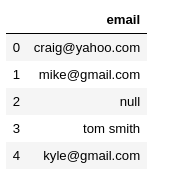 and I want to keep track of how many times the values of a column match an email regular expression pattern, for simplicity let's just say I want to match:
".*@.*"

I would like the return value for the email column to be 3, since the @ symbol is in 3 of the entries.
How would I do this in spark scala?