Dear all,
I'm working on a csv file and I'd like to filter and update this csv file as optimally as possible with functional programming. Here is the csv file: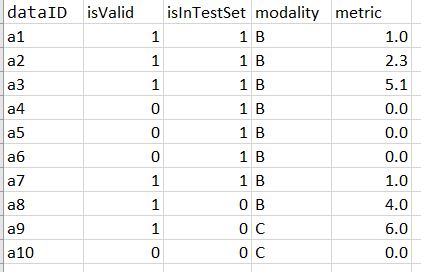 I'd like to read the csv, apply filtering on it (example on isValid) before applying some function on the filtered list. Here is a code snippet:
What I'd like to achieve is computing a metric for the valid cases (isValid = 1) only at first.
I've written a function to compute the metric which takes as parameter the filtered dataID list of valid cases and once the metrics are computed for those cases, I'd like to update those valid cases in the initial csv. Ideally I'd like to keep the initial dataIDs order. Also, I'd like to apply other filtering later (e.g. wrt metric), so a more generic approach is appreciated.
So far, I found that I need to use copy to update the fields
Thank you very much