How can i create a multi column check and create a comma separated string and get it added as a new column at the end of a dataframe. Ex I need to check if i have a List(22,33,44,55,66,77). The NewCol should be updated as below.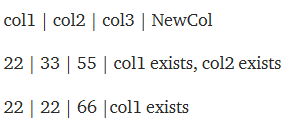 Example:
val list = List(4,5,10,7,2)
val df = List("a","b","c","d","e").toDF("row1")
df.collect()
.map(_.getAsString)
.zip(list).toList
.toDF("row1", "row2")
The above example very much works for me. But if my df is multi columns how can get the new df with all columns in first df appended with row2.